Анджела Бринтлингер | Angela Brintlinger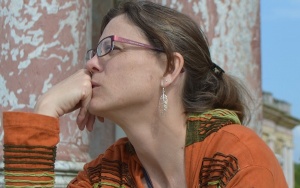 США | United States
Сфера научных интересов | Area of science: Literary studies, biography, gender studies, film.
Учёная степень | Academic Degree: PhD
Университет (Аффилиация) | University (Affiliation): Ohio State University
E-mail: brintlinger.3@osu.edu
5 публикаций и дополнительная информация | 5 publications and additional information:

• Seasoned Socialism: Gender and Food in Late Soviet Everyday Life [co-edited book with Irina Glushchenko and Anastasia Lakhtikova, Indiana University Press, 2019].
• Chapaev and his Comrades: War and The Russian Literary Hero across the Twentieth Century. Boston: Academic Studies Press, 2012.
• Chekhov for the 21st Century. Ed. Carol Apollonio and Angela Brintlinger. Bloomington, IN: Slavica Press, 2012.
• Madness and the Mad in Russian Culture, ed. Angela Brintlinger and Ilya Vinitsky. Toronto: University of Toronto Press, 2007. Print and electronic.
• Writing a Usable Past: Russian Literary Culture 1917–1937. Evanston: Northwestern University Press 2000 (paperback reissue 2008).
Додаткова інформація | Additional information:
Director, Center for Slavic and East European Studies
Professor and Graduate Studies Chair, Department of Slavic and East European Languages and Cultures
Affiliate, Mershon Center for International Security Studies
Vice-President, AATSEEL
Co-Translator with Thomas Feerick, Pyotr Vail and Alexander Genis, Russian Cuisine in Exile (Academic Studies Press, 2018) https://www.academicstudiespress.com/out-of-series/russiancuisineinexile
Co-Editor with Anastasia Lakhtikova and Irina Glushchenko, Seasoned Socialism: Gender and Food in Late Soviet Everyday Life (Indiana UP, 2019) http://www.iupress.indiana.edu/product_info.php?products_id=809588
ГОЛОВНА | HOME PAGE | ГАЛОЎНАЯ | ГЛАВНАЯ

НОВИНИ Й АНОНСИ
---
ФОРМА ЗАЯВИ ВСТУПЛЕННЯ В МАГ
APPLICATION FORM
---
ПАРТНЕРЫ